Description
Introducing the 16 Disc Medium Disc Harrow, a new product for 2023, designed specifically to enhance productivity in the agricultural sector. This robust piece of machinery, weighing 400kg, is engineered to loosen the land, preparing it for planting. It comes with a 1-year warranty for peace of mind and is supported by video outgoing-inspection and machinery test report for quality assurance. The core components of this disc harrow include bearings that ensure its smooth operation.
Features and Applications of the 16 Disc Medium Disc Harrow
The 16 Disc Medium Disc Harrow, with its high productivity selling point, is not just a farm implement. It is a vital piece of machinery for farmers looking to increase yield by effectively preparing the land for planting. The disc harrow is designed to break up the soil and redistribute crop residue, enhancing the soil's moisture retention capacity and enriching it with organic matter. Furthermore, the disc harrow is applicable in various industries, making it a versatile piece of equipment.
Working Principle and Maintenance of the Disc Harrow
The 16 Disc Medium Disc Harrow works by using its set of concave discs, arranged in rows, to cut into the soil. As the harrow is pulled along the field, it turns the soil and breaks it down, making it ideal for planting. Installation is straightforward, with an easy-to-follow user guide provided. Unloading is equally simple, designed to save time and effort. Regular maintenance, including checking and replacing bearings when necessary, will ensure the longevity of the harrow.
Why Choose AGKNX's Agricultural disc harrows?
When it comes to agricultural machinery, AGKNX is a name you can trust. Our 16 Disc Medium Disc Harrow is designed for high productivity, ensuring maximum efficiency in your farming operations. Coupled with a 1-year warranty and a comprehensive machinery test report, it's a purchase you can be confident about. Don't hesitate, contact us now to learn more about our disc harrow and how it can benefit your agricultural operations.
AGKNX Machinery Co., Ltd – Expertise in Agricultural Machinery
AGKNX Machinery Co., Ltd has been at the forefront of agricultural machinery research and development for many years. Our product line is extensive, including disc harrows, disc ploughs, disc blades, and more. With 100+ employees, including 20 technical staff and five senior R&D personnel, we are committed to delivering quality and reliability in our products. Our products are not only popular domestically but are also exported to Europe, America, Africa, the Middle East, and Southeast Asia.
Our Product Range
Our comprehensive range of products includes:
12~160HP tractor disc harrows

Disc ploughs

Rotary tillers
Moldboard plows
Deep plowing machines
Agricultural machinery parts like land levelers, fertilizer spreaders, furrow ploughs, etc.
Our products are sold all over the country and are exported to many countries and regions. We are proud to have been recognized for our business integrity and quality.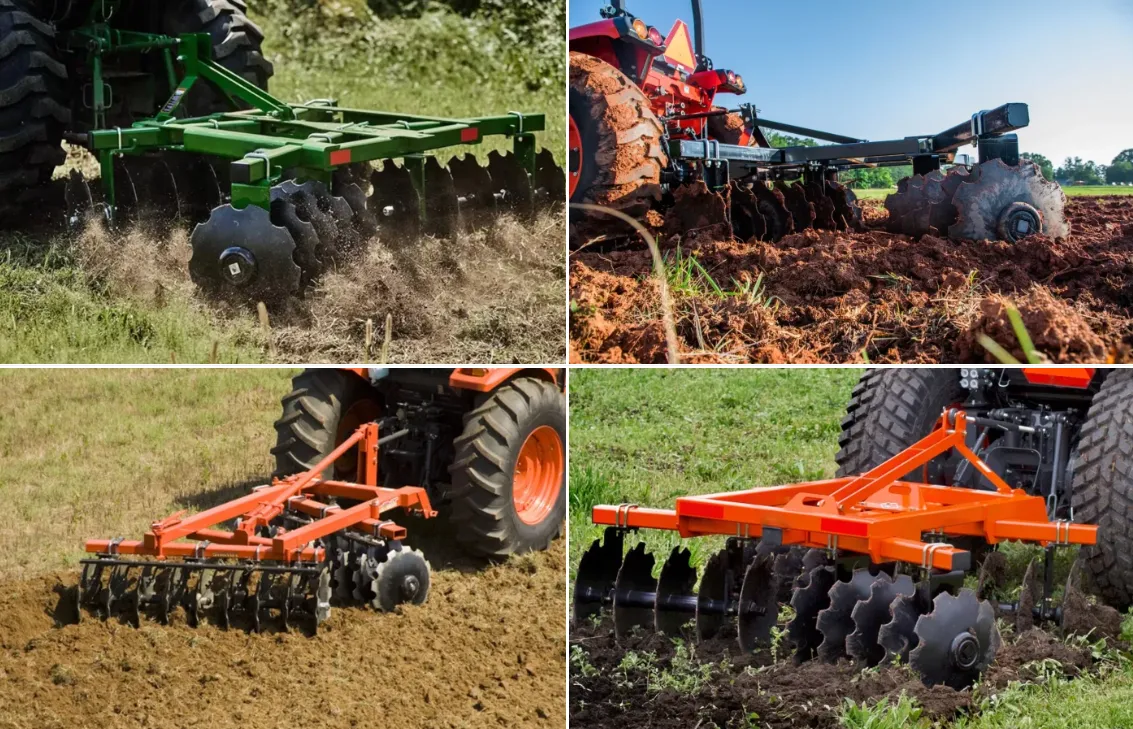 Learn More About Our Disc Harrow
Want to see the 16 Disc Medium Disc Harrow in action? Watch our product video below: