Description
The Agricultural Machinery Mould Board Plough is a versatile and efficient farming implement that is designed to enhance productivity in a variety of farming activities. This machine is powered by a tractor and operates as a farm cultivator. The device is brand new and comes with a one-year warranty, making it a reliable choice for modern farmers. Its primary use is for ploughing up and breaking hard land, making it an essential tool for soil preparation before planting.
Understanding the Agricultural Machinery Mould Board Plough
The Agricultural Machinery Mould Board Plough is a high productivity farming tool that was introduced as a new product in 2020. The machine has been extensively tested and comes with a video outgoing-inspection for quality assurance. Key components of the machine, such as the plough knife, are covered under a six-month warranty. This plough is suitable for use in manufacturing plants and farms.
With a weight of 70 KG and dimensions of 1550*850*1314mm, this plough is designed for practicality and efficiency. It is compatible with tractors of 15-30hp power and can work up to a depth of 15-25cm, with a working width of 600mm. The plough point is made of 65Mn Spring Steel, ensuring durability and long-lasting performance.
Working Principle and Maintenance of the Agricultural Machinery Mould Board Plough
The Agricultural Machinery Mould Board Plough works by being mounted on a tractor through a 3-point linkage system. The plough knife cuts through the soil, turning it over to prepare the land for planting or other farming activities. The depth and width of the ploughing can be adjusted according to the specific requirements of the task at hand.
Maintenance of this machinery is straightforward. Regular inspection of the plough knife and other components is necessary to ensure optimal performance. Any worn out or damaged parts should be replaced promptly, and the machinery should be kept clean and free from dirt and rust. After-sales service and spare parts are provided to assist you with any maintenance needs.
Why Choose HZPT's Agricultural Machinery Mould Board Plough?
Choosing HZPT's Agricultural Machinery Mould Board Plough gives you access to a high-quality, efficient and reliable tool for your farming needs. This machine offers high productivity, helping you save time and effort in your farming tasks. Its robust construction ensures durability and longevity, giving you excellent value for your investment. HZPT is committed to providing top-notch customer service, including after-sales service and free spare parts. Don't hesitate to contact us for more information about our products and how they can benefit your farming operations.
About HZPT Machinery Co., Ltd
HZPT Machinery Co., Ltd. has been researching and developing a wide range of agricultural machinery. Our product line includes rotary tillers, PTO shafts, disc harrows, disc ploughs, disc blades, disc ridgers, rotary tillers, furrow ploughs, sickle bar mowers, rotary mower, flail mower, boom sprayers, fertilizer spreaders, potato planters, plough blades, agricultural cultivators, box scraper, potato harvester, agricultural trailers, corn seeder, wheat seeder, vegetable seeder, harvest machines, post hole digger, wheat seeders, corn seeders, agricultural subsoiler, and soil-loosening shovels. Our team of over 100 employees, including 20 technical staff and five senior R&D personnel, work tirelessly to provide you with innovative and reliable agricultural machinery.
Our machinery is designed with advanced technology and built with high-quality materials for optimal performance and durability. We supply farming machinery to manufacturers all over the country and export to various countries and regions worldwide.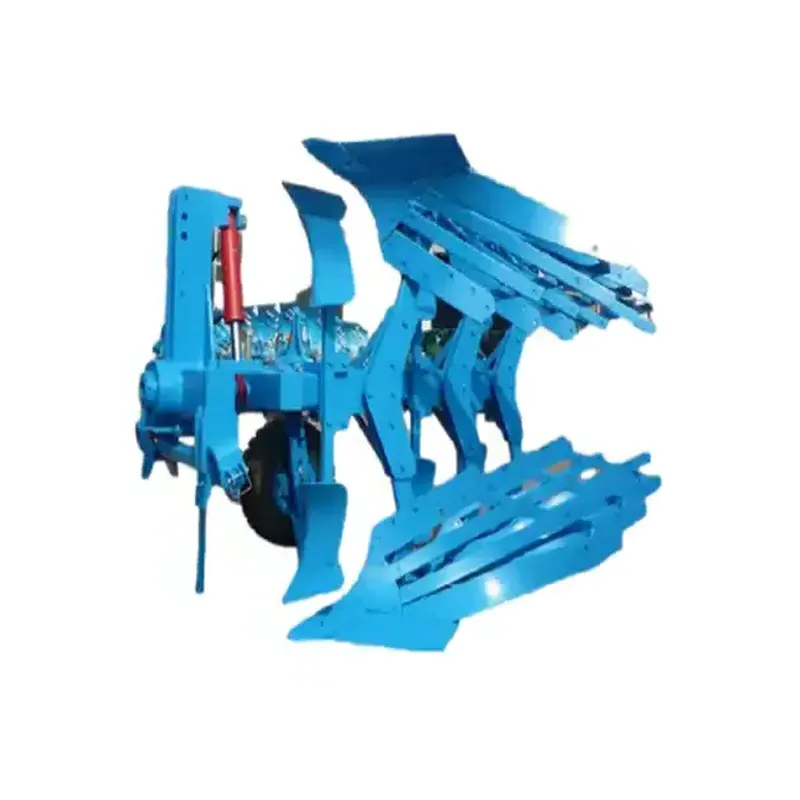 For more information about our products and services, feel free to contact us at any time.
Agricultural Machinery Mould Board Plough in Action
Check out the Agricultural Machinery Mould Board Plough in action in this short video: