Description
Introducing the 24"*5mm Harrow disc blades – high-quality agriculture machinery parts that are designed to enhance efficiency and productivity on your farm. These blades are brand new, made from 65Mn spring steel/Boron steel, and are perfect for disc harrow applications. These blades are an ordinary product that comes with a 6-month warranty, and they weigh 11 KG. They are shipped from Qingdao, Shanghai, Guangzhou and they are ready to be used straight out of the iron case packaging.
Understanding the Harrow Disc Blades
When it comes to farming and agricultural machinery, the disc harrow blades are an integral component. They are used in disc harrows, a piece of agricultural equipment that is used to cultivate the soil where crops are to be planted. It is also used to chop up unwanted weeds or crop remainders. The Harrow Disc Blades are made of 65Mn spring steel/Boron steel, ensuring durability and toughness. The hardness rating of these blades is between 38-44HRC, which means they can withstand tough conditions and last longer. The blades are original in color, with the brand name 'EP' engraved on them. The minimum order quantity for these blades is 1 piece, making it convenient for small and large scale farmers.
Working Principle and Maintenance of Harrow Disc Blades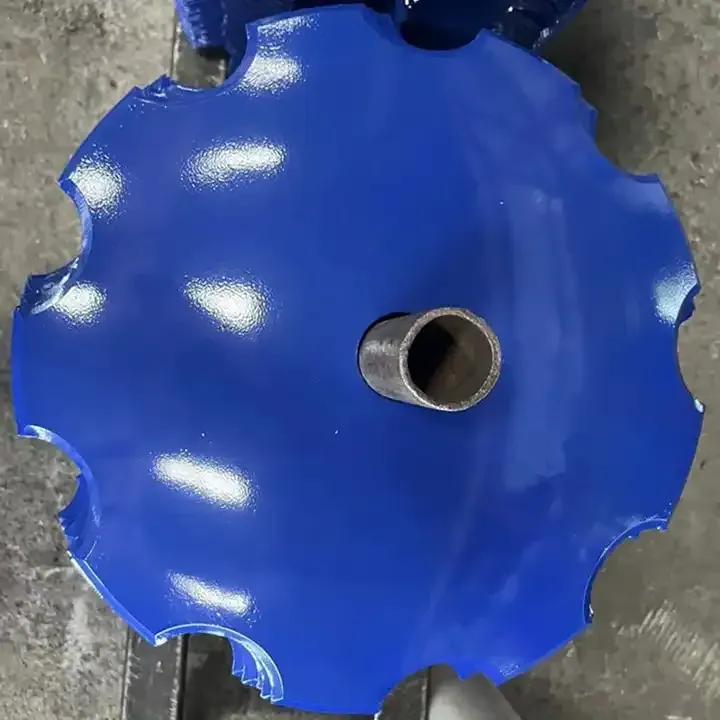 The disc harrow blades work by being mounted onto the disc harrow and then used to break up the soil and crop residues. Installation is straightforward, and unloading is as simple as reversing the installation process. In terms of maintenance, it is recommended to regularly check the blades for any signs of wear and tear. Replacement is recommended once the blades become dull or damaged to ensure optimal performance. The 65Mn spring steel/Boron steel construction of these blades ensures they can stand up to repeated use, but like all machinery parts, regular maintenance is key to longevity.
Why Choose AGKNX's Agricultural Disc Blades?
Choosing AGKNX's agricultural disc blades products ensures you're getting a quality product that is both durable and reliable. AGKNX's blades are designed to improve the effectiveness of your farming activities, providing you with a reliable solution for your agricultural needs. The company is known for its superior quality products, and these blades are no exception. Don't wait, enhance your agricultural productivity today by choosing AGKNX's agricultural disc blades.
About AGKNX Machinery Co., Ltd
AGKNX Machinery Co., Ltd. has been a pioneer in the research and development of agricultural machinery for years. We specialize in a wide range of farming machinery, planting machinery, harvesting machinery, and their accessories. Our team of over 100 employees, including 20 technical staff and five senior R&D personnel, are committed to delivering quality products to our customers. Our products are sold across the country and are exported to Europe, America, Africa, the Middle East, and Southeast Asia.