Description
Presenting the custom self-propelled sprayer, a state-of-the-art agricultural tool designed for precision and efficiency. This garden machine boom sprayer is engineered with a pump-type sprayer, specifically designed for agricultural usage. Sporting a robust model number 3W-1000, the sprayer features a diameter of 90 cm and a German-made spray nozzle, ensuring durability and maximum output. The sprayer is brand new and comes with a comprehensive after-sales service, including overseas servicing by trained engineers. This pressure tractor boom sprayer is your ideal partner for all your agricultural needs.
Features and Benefits of the Custom Self-Propelled Sprayer
The self-propelled sprayer comes packed with features that offer numerous benefits to the user. The sprayer is powered by a 28hp diesel engine and has a large case volume of 1000L. The working width of 12m enables broad coverage, while its adjustable height of 500-1600mm allows for flexible operation. This sprayer, weighing in at 1600kg, can be transported easily, making it an ideal choice for large-scale agricultural operations.
Understanding the Working Principle and Maintenance of the Custom Self-Propelled Sprayer
The custom self-propelled sprayer operates on a simple principle. The pump creates a pressurized flow of the spray material, which is then distributed evenly across the field through the spray nozzles. The sprayer is easy to install and unload, and requires minimal maintenance. Regular cleaning of the pump and nozzles is recommended to ensure its longevity and optimal performance.
Why Choose AGKNX's Agricultural Boom Sprayer Products?
AGKNX's agricultural boom sprayer products are the epitome of quality and efficiency. Engineered with precision and designed for high performance, these sprayers are a must-have tool for any modern agricultural operation. With AGKNX, you are not only investing in a product, but also a promise of relentless service and support. So, don't wait! Enhance your agricultural operation with AGKNX's agricultural boom sprayer products today.
About AGKNX Machinery Co., Ltd
AGKNX Machinery Co., Ltd. is a leading name in the agricultural machinery sector. With over 100 employees, including 20 technical staff and five senior R&D personnel, we ensure that our products are designed and manufactured to the highest standards. We offer a wide range of agricultural machinery, including rotary tillers, PTO shafts, disc harrows, disc ploughs, disc blades, rotary tillers, box scraper, sickle bar mowers, rotary mower, flail mower, boom sprayers, fertilizer spreaders, furrow ploughs, potato planters, plough blades, agricultural cultivators, potato harvester, agricultural trailers, and more. Our products are sold across the country and exported to many countries and regions in Europe, America, Africa, the Middle East, and Southeast Asia.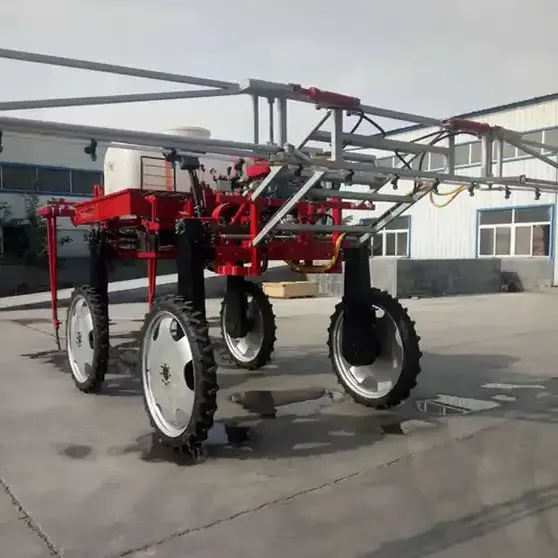 Experience the Power of AGKNX's Agricultural Boom Sprayer
Don't just take our word for it. Experience the power and efficiency of AGKNX's agricultural boom sprayer yourself.